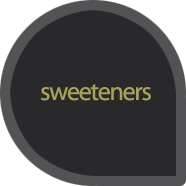 Sweeteners
Sweeteners are additives of natural or synthetic origin used to impart a sweet taste to food or drinks. Recent years have seen a great deal of research in the discovery of new sweeteners. Because of the increased demand for low in sugar and calories foods, the stevia plant and sweeteners derived from its leaves are in demand lately.
La Mia Crystal Stevia 1:3 900gr
Product Details
Category : SWEETENERS
La Mia Stevia crystallized, 900 gr of a 1: 3! Each gram La Mia Stevia, equivalent to 3 grams of sugar! Save money, add 1/3 teaspoon of La Mia Stevia and will get the same sweetness of sugar with 1 tablespoon! From Greek stevia leaves, cultivated in Fthiotida! Get free 10 sachets of La Mia Stevia! It contains no calories! Ingredients: Erythritol, steviol glycosides from Greek stevia leaves.
Additional Information
Σοκολατάκια με Τζίντζερ - Δοκιμάστε τα!
Θα χρειαστείτε:
125 ml κρέμα γάλακτος light
ξύσμα από 2 lime
300 γρ. κουβερτούρα χωρίς ζάχαρη (κομμένη σε μικρά κομματάκια)
1,5 κ.γλ. La Mia Stevia
2 κ.γλ. Φρέσκο τριμμένο τζίντζερ
Λίγο κακάο χωρίς ζάχαρη για την επικάλυψη
Εκτέλεση:
Σε ένα κατσαρολάκι βάζουμε το ξύσμα και την κρέμα γάλακτος.
Αφήνουμε να πάρει μια βράση και το αφαιρούμε από την φωτιά.
Προσθέτουμε τα υπόλοιπα υλικά τα οποία με πολύ καλό ανακάτεμμα θα λιώσουν από την θερμότητα της κρέμας.
Βάζουμε το μείγμα σε ένα μπολάκι στο ψυγείο για 3 ώρες ή στην κατάψυξη εάν βιαζόμαστε, έως ότου σταθεροποιηθεί καλά.
Με ένα κουταλάκι βγάζουμε λίγο λίγο το μείγμα και το πλάθουμε μπαλάκια τα οποία έπειτα περνάμε στο κακάο.
Πλήρης απόλαυση με ελάχιστες θερμίδες!
Καλή επιτυχία!